"Studio Artist is a real gold mine for serious professional compositional explorations in the visual domain who want to explore algorithmic art. It encourages experimentation and leads to unbelievable serendipity…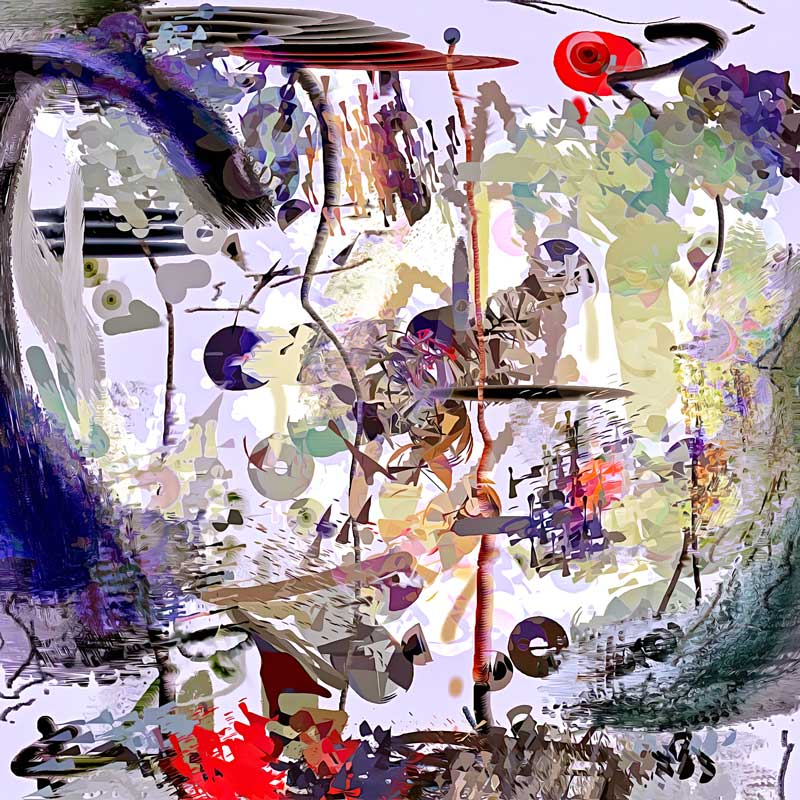 Studio Artist user Otto Laske has a long personal history of exploring different aspects of what he calls digital "algorithmic composition" to create fine art. First in the diverse realms of electronic music composition and computational poetry. Then expanding over time to include the creation of visual music animations. And finally extending to digitally generated visual drawings, paintings, and manipulated digital photography.
Otto has this to say about the development of his algorithmic approach to creating visual artwork and animations.
"The 'algorithmic' thinking that I have adopted in my art making is detailed in two new downloadable pdf documents. An Ebook called 'Fifty Years of Algorithmic Composition' and an essay on 'Permeable Boundaries.' Both texts shed light on a creative process in the strict sense that, in my thinking, transcends conventional boundaries between the arts."

The origin of Otto's movement from music to visual artwork initially formulated in animations he made to visualize his electro-acoustic compositions. They were all 'visual music' animations in the sense that their backbone was the musical score that underlies them. But over time, he expanded his algorithmic visual creativity to encompass the creation of digital still art imagery.
"My process in creating an image is one of fitting together a drawing and a painting based on an animation still. This is a process I have been experimenting with in my Studio Artist software where I continuously find new ways of thinking visually. What elates me when creating an image is the improvisational nature of my process, the spontaneity that my knowledge of the software I use makes possible.
For me esthetic boundaries are entirely permeable, and this is particularly true for the art forms that used to be called photography and painting. I may use animation tools to make a single image rather than a whole series of images as I do when composing a lengthy animation."
Otto's thoughts on algorithmic compositions and expanding focus on techniques for digital painting and drawing continued to expand over time.  A significant step beyond following the source image occurred when he began using animation stills as mere color-shape templates for 'free' painting. Here, the animation still itself is no longer identifiable as the source of the painting.
"Recently, of particular interest to me has been the merger of painting and drawing. Since I am working with software, after settling for one set of colors, I could theoretically try different color schemes before I settle down for a particular one as the definitive one. But I surmise that the colors I decided to use at the beginning of my creative process have an intimate connection with the drawing that developed, however hard it may be to verbalize this connection. Technically, what interests me in this work is the possibility of working spontaneously and improvisationally in two dimensions at the same time, such that the drawing influences how colors are used and the colors influence how the drawing develops."
Otto makes heavy use of Studio Artist to create his visual compositions. When asked what he particularly likes about working with Studio Artist, he had this to say.
"Studio Artist is a real gold mine for serious professional compositional explorations in the visual domain. It encourages experimentation and leads to unbelievable serendipity. I really like the ability to work with controlled randomization, a process I first learned in music composition. Paint synthesizer evolution allows one to export hybridized presets, which can then be hybridized further. Paint and image operations can also be mixed together to create more powerful compositional effects."
Otto has been very active participating in a number of fine art exhibition shows over the last few years. Including a solo show at the Newburyport Firehouse Gallery, and the Beaumont Texas Art League. In 2014 he curated his first exhibition, called 'Pixel Revolution', at Rocky Neck Art Colony in Gloucester MA. In this show, he brought together 20 abstract works, half of which were either animation stills or based on animation stills as their source. This show included work by additional Studio Artist users, including Arlene Rabinowitz and Scott Smith.
You can learn more about Otto's artwork, visual music animations, and creative process at his web site. The two pdf documents mentioned above that detail Otto's investigations into digital algorithmic composition for generating artwork are available for download here.