Many of our Studio Artist users have expressed a fasciation with printing their digital artwork on Aluminum. As opposed to printing on paper or canvas, the normal traditional surfaces available for giclee digital fine art printing. One Studio Artist user, John Anderson, has achieved considerable commercial success selling large format aluminum prints of his Studio Artist created artwork for corporate art installation projects.  So i was really happy when MauiCanvasPrint company owner Ian Haywood was up for submitting to an interview, to help us all understand the finer points of printing digital artwork on aluminum.
MauiCanvasPrint's new location is in the recently becoming trendy Pauwela Cannery, located on the north shore of Maui. Where you can grab an espresso and a meal for outdoor dining, or a fine fresh pastry from Baked on Maui. And by baked they mean fresh bread and pastries, not other things Maui might be known for.I met Ian one afternoon recently, and he gave me a tour of his very cool combo printshop / local art gallery, located inside of the main old Pauwela Cannery building.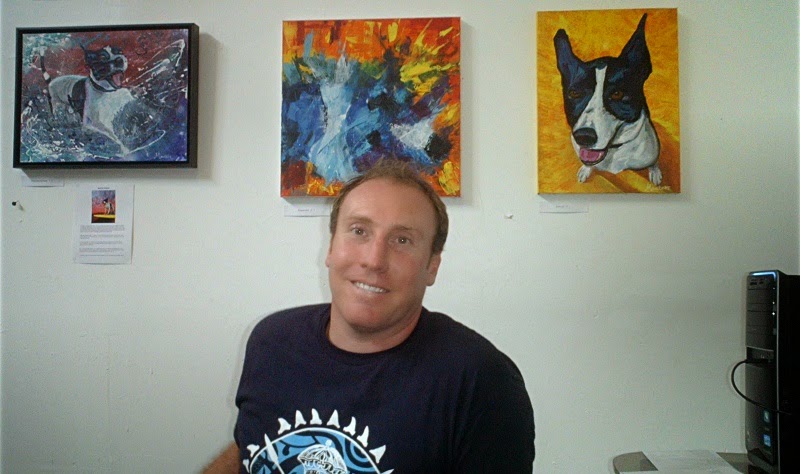 Ian's company specifically invested in a new Epson 7890 printer specially devoted to printing on aluminum. In addition to their existing Epson Stylus Pro 11880 for paper and canvas printing
Digital fine art printing on aluminum is really a two stage process. At least the way they do it.I have heard of people trying to run a piece of aluminum through an ink jet printer at home. We actually had an article here that discussed that experimental do-it-yourself approach previously.
But high quality commercial digital fine art printing on aluminum is really a two stage process.
Involving first printing a reversed image print onto a sublimation dye transfer sheet.
And then using a heat and pressure transfer process to transfer the inverted printed image from the printed sublimation dye transfer sheet onto the actual piece of aluminum.
Where the reversed transfer sheet print image then becomes the original orientation final artwork dye based print image on the aluminum backing surface of that completed metal print.

We have also discussed some of the mechanics of image transfer printing in this blog which you can check out in the Printing Technique category of posts . That article focused on how to do it at home, and also how you could manually interact with the transfer process to create various artistic effects. But that article focused on small prints made using low cost home printers, as opposed to the mechanics of how high quality large format commercial fine art prints are made.Because we are talking about a facility located in Hawaii, Ian has paid special attention to how his print shop was constructed. It contains a separate enclosed tightly climate controlled room for the actual printers and print supplies. Air conditioned set to optimal temperatures, and humidity controlled as well for optimal health and longevity of both the physical printing equipment as well as the storage of the various printing supplies.


While taking full advantage of the mild natural climate for the rest of the art gallery and for the equipment used for the heat transfer part of the process. With special ventilation systems located next to the heat transfer equipment to be used when it's in operation.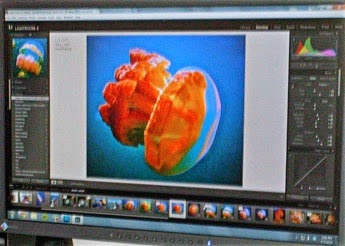 Ian uses Adobe Lightroom running on a calibrated monitor as the main control software for setting up and performing the overall printing process.
Q and A
1: So why 2 printers? Why not just use one. I've heard of people doing that.
Yes, in theory you could use one ink jet printer to do this. But the kinds of inks you need to use for normal printing on paper or canvas are very different than the sublimation dye inks used for printing on aluminum.
So if you wanted to use a single ink jet printer to do both, you'd have to totally purge the complete ink system from the printer when switching from one kind of printing (paper/canvas) to another kind of printing (printing sublimation dyes onto a transfer sheet). Now that purge and refill operation is kind of tricky to put it mildly, and might lead to contamination, and would take a lot of time, and be very ink inefficient as well
And we are trying to handle a large volume of digital art printing here on a daily basis. Both fine art printing on paper and canvas, as well as fine art printing on Aluminum. So having 2 dedicated machines for these two very separate printing tasks is the best solution for us, and for our customers.
We use an Epson Stylus Pro 11880 64 inch wide photographic printer for printing on paper or canvas. This is the widest digital printer available on the island of Maui. It allows us to produce professional archival prints with amazing color fidelity. This printer uses Epson UltraChrome K3 Ink Technology, which consists of 8 color inks and an additional 3 levels of black ink. This significantly raises the quality of both color and black and white prints made with this printer.
We exclusively stock museum quality Lyve Canvas for canvas prints. Lyve Canvas is a matte poly-cotton blend inkjet canvas that is certified as archival quality.
Each canvas is additionally custom treated after printing by spraying it in a dedicated spray booth with Breathing Color's UV resistant coating, This coating is scratch resistant and anti-fungal, which is very import for combatting exposure to high humidity, a big problem if your print is going to live it's life hanging on a wall in Hawaii.
We also stock an extensive range of paper stocks from multiple manufacturers, including Hahnemuller, Breathing Color, and Proofline in both matte and glossy finishes.
For Aluminum prints, we use a dedicated Epson 7890 printer with Sawgrass Photographic sublimation inks. The inks used in this system are an 8-color ink system, and utilize the Epson MicroPiezo TFP print head to produce high quality sublimation dye color prints on a transfer sheet. Used for subsequent heat transfer to the final Aluminum backing of the finished print.
2: What's the specific technology you are using for printing on aluminum?
Our clients can upload their digital art image files to our web site.
Or stop by if they are local with something like a usb flash drive to deliver their digital art file.
And then we import the digital art image file into Adobe Lightroom.
With our calibrated monitor, and the print driver software available for our printers that we have installed inside of Lightroom, we can properly setup the correct print color profile for the specific kind of media we are printing onto.
For printing onto paper or canvas we use the Epson Stylus Pro 11880 printer.
For printing the sublimation dye transfer sheet for aluminum printing, we use the Epson 7890 printer.
The ink used in this printer specifically designed to print sublimation dye sheets is a little bit different than the ink used for more conventional printing on paper or canvas.
This is partially because the ink does not just land on the aluminum sheet like it would on paper or canvas, but it actually is designed to print onto a transfer sheet and then physically infuse into the metal during the heat transfer process.
It's an 8 color ink system, specifically designed for dye sublimation transfer printing onto Aluminum.
3: Any special considerations as far as the kind of digital art file an artist should provide to you?
We can deal with any image file format Adobe Lightroom can open.
As far as color matching, we usually get image files from artists in either the  prophoto RGB or adobe RGB color spaces.
We can actually deal with a wide range of resolutions for the digital art file.
We have had clients bring us 60-80 dpi image files, and this is probably the minimum we could work with to get a nice print. We have some special software here we can use to bump up the resolution of those low res files for printing.
Obviously higher resolution is better, 180, 240, or 300 is actually totally acceptable to get a nice print.
The actual image printed on the sublimation dye sheet needs to be a mirrored image, due to the secondary heat transfer process from the printed sublimation dye sheet onto the aluminum.
We do that mirroring as a part of our pre-processing of the image prior to printing the actual sublimation dye transfer sheet.I've also noticed some subtle luminance differences in prints, what you would ideally like to see in color reproduction, vs what the factory calibrated print driver actually supplies you. So we do some very subtle custom modifications of the digital file to compensate for that.
But overall the calibrated print drivers provided by the manufacturer do an excellent job of reproducing the digital image, other than the minor thing i just mentioned having to do with the overall lightness of the resulting printed image, which we correct for manually.3. What kind of special considerations do you need to be aware of when printing on aluminum?
Moisture in the surface of the aluminum is a big factor in the quality of the resulting print.
Water vapor can essentially get into the surface of the aluminum.
So we have a special process we go through to treat the piece of aluminum immediately prior to the heat transfer process to get rid of any water that has infused itself into the actual surface of the aluminum prior to performing the heat transfer process
The temperature of the heat transfer device is also very important. so we monitor that very closely to insure it's kept at optimal settings.
The transfer process incorporates both heat and applied pressure.
And the timing of that process is also very critical to the resulting quality of the final Aluminum print.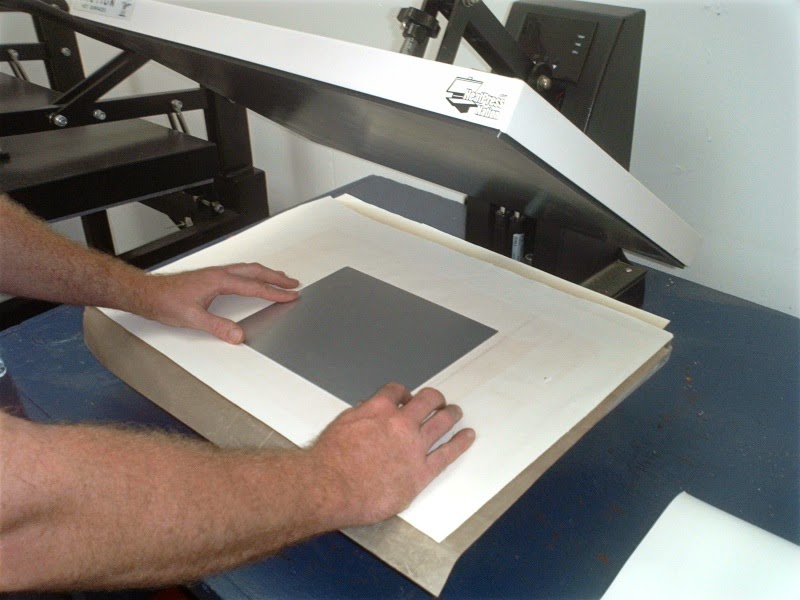 The image above shows Ian demonstrating the use of one of the 2 different heat – pressure transfer devices his shop uses for sublimation dye transfer printing onto aluminum. This is the smaller of the 2 transfer presses available at this shop. The printed transfer sheet and the piece of aluminum are aligned in the press, and then the press applies heat and pressure to transfer the reverse printed sublimation dye image on the transfer sheet over to the surface of the Aluminum for the final metal print.The edges of the aluminum sheet can also be very delicate.
So it's actually kind of an art to get a really nice print on aluminum that has complete full coverage all the way to the bleeding edge of the piece of aluminum. As opposed to seeing white or some other color backing metal showing through at the edges of the piece of printed aluminum.There are several different kinds of aluminum backings you can use.
Some of them are white coated. This is going to give the best color reproduction of course.
Others are just the natural metal with no additional neutral colored coatings on the surface of the Aluminum.
These no-coating natural aluminum surface prints have a very different visual aesthetic feel to them when you view them, because the natural color of the aluminum interacts with the light from the room passing through the colored dyes infused onto the surface of the aluminum, which is then reflecting back to the viewers eyes, and that produces the color the viewer sees in the print.
This natural finish coloring effect could be considered a cool artistic component of the print on aluminum process, or maybe something you want to avoid, which you can do by using a white backing coating on the surface of the aluminum sheet. It's all up to what you are ultimately shooting for as far as the final visual aesthetic look associated with your particular piece of printed artwork as to which options you choose.Most commercial print shops, especially the ones you might find on the web, use a .3 mil thick piece of aluminum. We prefer to use a .45 thickness, because we think it leads to a higher quality better print. One that is less likely to have issues associated with the edges of the aluminum sheet. And be more durable over the long term life of the print.
4. How do you hang these aluminum prints on the wall?
There are several different ways.
We have a special small rectangular wooden hanging mount we can attach to the back of the block of printed aluminum. So this makes it very easy to hang the print. And is also very inexpensive, compared to the cost of a normal custom built frame.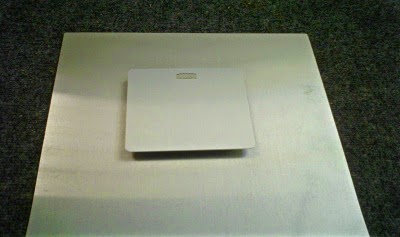 Of course we are happy to do that as well if a client wants that.
We can construct those out of aluminum as well. Which is interesting, because then the print has a raised 3D look to it based on the extended frame edges which you see when the aluminum art print hangs on a wall.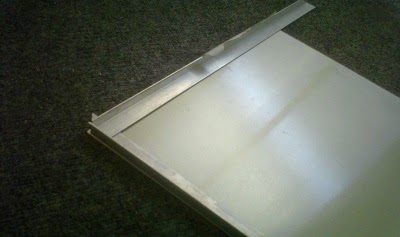 We could also do custom wooden frames if someone wanted to go that way.
It's all up to what the customer wants for their specific digital fine art print.5: In talking to you i get the sense that there is an art to the actual printing process, which might be one reason working with a small dedicated fine art print company such as yours might be preferable to a name less, face less, pound it out super high volume commercial print service you might find on the web.Yes, that is true. We take great pride in our work, and i feel we have a really good knowledge of the various subtle factors i mentioned previously that can greatly affect the final quality of the digital fine art color aluminum print.
Things like moisture embedded in the aluminum itself, optimal heating of the transfer process machinery surfaces, as well as optimal timing of that heat and pressure based transfer process, controlling for edge effects that could occur at the borders of the piece of aluminum being printed on, optimal calibration of the digital file prior to printing, etc.Observing the actual color print develop on the piece of Aluminum after the heat transfer process is really interesting to watch. Because it's a process that actually takes several minutes to fully develop and complete. So in some sense it's like watching a Polaroid photo develop. You see the colors come into focus on the aluminum, and at first they seem off, but then after waiting a few additional minutes to allow for the full development process to take place, which involves the dyes fully infusing into the metal, you see the coloring of the dye transfer printed image pull together into the true final coloring of the finished print.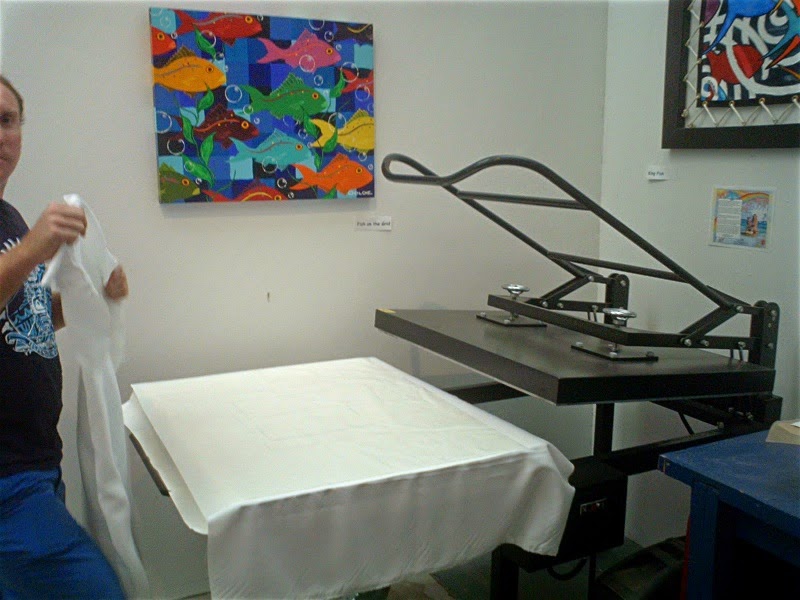 Ian demonstrating the use of the second larger heat and pressure transfer press his shop uses for sublimation dye transfer printing onto aluminum backing surfaces.
The quality of Ian's large format digital fine art prints, both on conventional media like paper or canvas as well as on Aluminum is really quite outstanding. And when you read everything he mentioned above, there is obviously a lot of craft involved in the overall process of creating a really great looking digital fine art print. In addition to the work the original artist does creating the digital art image that will be printed.
MauiCanvasPrint is located in the old Pauwela Cannery in Haiku on the north shore of Maui, on West Kuiaha Rd. The old cannery building was originally a pineapple cannery back in the day, but is now becoming a trendy secondary hub in Haiku (the other being the main Haiku town, which is also centered around another old pineapple cannery as it's center point).
MauiCanvasPrint is really the 'go to' place if you are interested in digital fine art printing on the island of Maui. And they also ship their prints worldwide, so you don't have to be located in Hawaii to take advantage of their fine art printing services and the associated personal level of craft and care that goes into the production of each individual digital fine art print they produce.
Many Studio Artist users have expressed intense interest in printing their digital artwork created in Studio Artist on metal backing surfaces like Aluminum. So that's why we've been occasionally featuring articles here on different approaches to doing that. And i'd like to especially thank Ian for taking time out of his busy schedule to educate us all on the finer points of high quality commercial fine art printing on Aluminum
Some of our more experimental cutting edge customers are also checking out recent trends in the development of 3D printing technology. Using 3D printers to print out their Studio Artist created artwork. So at some point we'll put together an article to talk about that new frontier for printing StudioArtist created artwork as well.