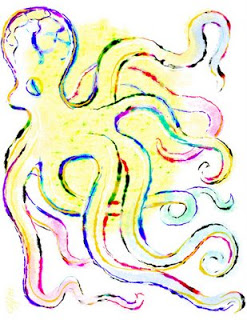 Long time Studio Artist user Craig Deeley is an animator and illustrator based in San Diego. An example of his unique artistic style is shown above. This image was grabbed from his art blog GreenLightCD, which is well worth checking out. Craig also has a lot of different hand drawn art examples posted on the Studio Artist User Forum.
Craig has graciously has put together a great collection of Studio Artist 4 paint presets that are especially designed for hand drawing. Studio Artist 4 includes an initial version of this custom preset collection which is called 'CD_hand_draw_media' in the factory preset collection. The categories in this preset collection correspond to different natural media tools and techniques and include things like charcoal, pencil, pastel, ink, watercolor, oils, etc.
You can of course access this manual drawing preset collection in the version 4 preset browser (shown below) like any other preset collection.
But Craig also put together an additional set of custom html documentation for the CD_hand_draw_media collection which you can access in the Studio Artist 4 help browser. This documentation includes detailed instructions and examples for each of the different presets.
You can use the custom CD_hand_draw_media help pages to learn more about what you can do with the individual preset in the collection. The help pages include active links which will load the associated paint presets when clicked.

The initial index page for the CD_hand_draw_media custom preset help pages is shown below. Note how it includes links to more detailed descriptive pages for each preset in the different categories in the collection. You can access Craig's custom preset help pages by pressing the Custom button in the toolbar at the top of the version 4 help browser.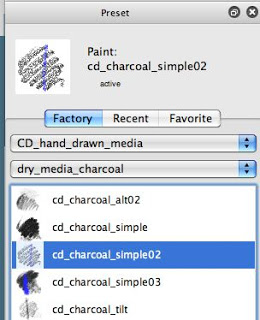 After clicking on the Dry Media Charcoal link you get the following more detailed help page.

Each detailed description page includes examples of what drawing with the preset will look like (as shown above). The blue active links associated with each preset example will load the associated preset when pressed.
Craig's custom help pages for his CD_hand_draw_media paint collection are a great example of what you could do with your own preset collections in Studio Artist 4. Building custom preset help pages for use in the Studio Artist 4 help browser provides a great alternative to the preset browser palette for detailed custom preset organization and access.
Craig recently posted additional manual drawing presets that expand the initial set included with version 4.