Studio Artist user Dennis Miller's artwork has been recently featured at the Boston Con­ven­tion & Exhi­bi­tion Center as part of a public media art exhibit titled "Art on the Mar­quee." Pre­sented by Boston Cyber­arts and the Mass­a­chu­setts Con­ven­tion Center Authority, the exhibit features video art that is viewed by some 10,000 vis­i­tors each day.
"Art on the Marquee" offers artists more than 3,000 square feet of digital display on seven screens, providing full-motion video and a viewership of more than 100,000 pedestrians and motorists. The marquee is visible for a half a mile in many directions.You can check out 2 videos of Dennis's Studio Artist generated moving artwork here and here.
Dennis had this to say about the exhibit.
"The Boston Cyberarts Festival, the major umbrella organization for digital media in New England, put out a call for work to be screened on an 80-feet screen outside the Boston Convention & Exhibition Center in downtown Boston. This screen had been previously used to promote events at the convention center, but then the Massachusetts Convention Center Authority came up with the idea to commission new work from area artists for this very public space. Apparently 10,000 people pass by the screen every day.
There have been four commissioning rounds, and I have been in each one of them. All of the presented marquee art work was created entirely in Studio Artist. Given the very unusual configuration of the screen, which actually consists of seven separate panels, I felt Studio Artist would be the very best tool to use to create the work.  Some of the guidelines requested work suitable for night viewing, soft and muted, while other day viewing rounds wanted bright looking artwork to compete with the daylight.
All of the works were created with the individual panels in mind at full 1920 x 1080 size. Then once the imagery was rendered, I used the provided After Effects template to align the work on the proper screen panels. The template gave me a 3D preview of the entire display, which is what I used to determine the placement of the various animation segments."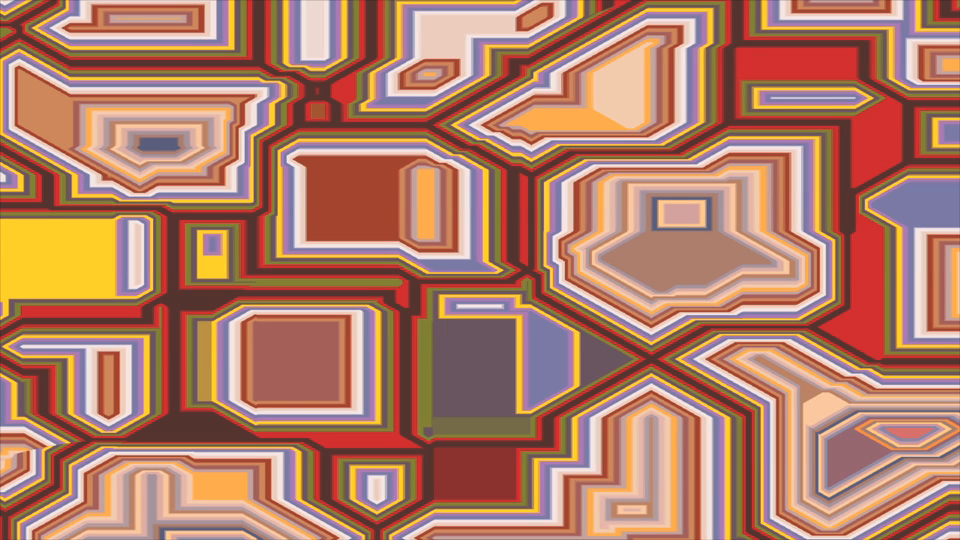 Dennis is a professor at Northeastern University in the College of Arts, Media, and Design. Dennis  was also the primary force behind the Visual Music festival. More information on Dennis's artwork, animations and music is available here.