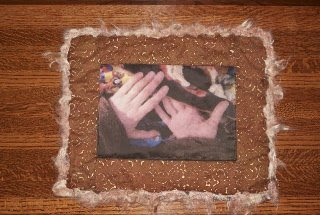 Homer Alaska based Studio Artist user Diane Peterson is a fiber artist who has been experimenting using Studio Artist to create mixed media fiber art. I wanted to share this because it's an interesting example of moving beyond conventional digital artwork for the screen or traditional ink jet prints. And it's also a great example of utilizing low cost equipment in new ways. I've included her description of what she did to create this piece below.
'I made this for my friend who is a hand therapist. She decorates her office only in art that features hands. It is a photo Brent took of my hands, altered and distressed digitally with Studio Artist software, then printed with Canon i560 inkjet on 10mm Habotai silk. The outside is hand dyed and oil painted recycled silk (ladies blouse), the quilted lining is 2 layers of recycled flannel (queen size fitted sheet), and the back is hand dyed recycled cotton muslin (twin sheet). Thanks to the Pick n Pay for the economical materials. The border is hand dyed and natural colored tussah silk fiber blended and felted on. The back is embroidered with the name of the piece and has embroidered hanger loops and the Curiosity Blue logo. In the photo it is still a bit damp. The whole piece is about 13″ x 16."
All dyed items came from the same dye bath, a fiber reactive blended to brown. Silk showed quite a bit of magenta drift in this case, especially in the tussah.
Hand in textile processing refers to the hang of a particular weave. The textiles in the photo are very different weaves, or hands of silk. Hence the name. I have included the processed image which was integrated.'