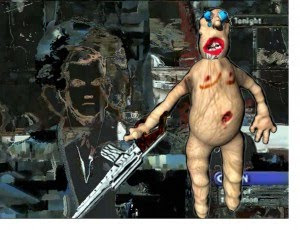 Studio Artist user Thorrific has an art opening tonight August 23rd at the Metrognome Collective in Fort Worth Texas from 7 to 9 pm. There's a live band Twigs and Yarn afterwards from 9 -11pm. Thor's work always puts a smile on my face, so if you're in the Fort Worth area stop by and check it out. The gallery's normal viewing hours are from 4-9 pm thursday-sunday.
The online review states "caustic and needling, Thor's interactive artworks, animations, and static images plainly expose the irony of free-market existence and its sustenance of third world, war-torn suffering."
The Metrognome Collective was formed to educate, promote and assist visual artists, musicians, writers, performers and filmmakers, and is located at 4147 Meadowbroke Dr., Fort Worth, Texas.