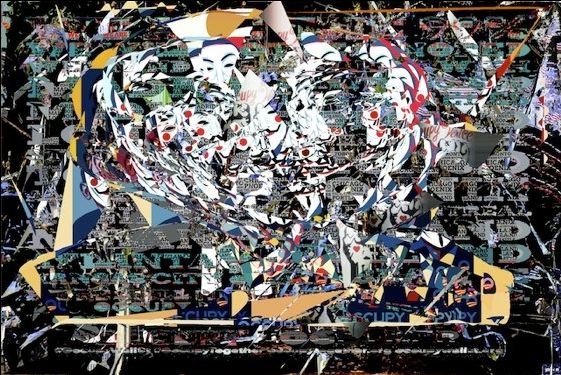 Studio Artist user Tucker Stilley has put together an online gallery of his most recent experiments in controlled random generative art creation. The finished art gallery images are derived from working with collections of images randomly web spidered from online articles about the Occupy Wall Street movement.  Tucker worked in tandem with his cybernetic collaborator Nguyn-9000 (aka Studio Artist) to put together this series of art prints.
Tucker uses Studio Artist's Gallery Show features to help him explore the possibilities of working with controlled generative randomization as a creative process. He generates a large number of art images using automated Gallery Show runs that process his web harvested topical imagery, and then culls through the results looking for keeper images. Tucker's end goal was a series of detailed giant prints, so the actual finished processed images are 60″ wide.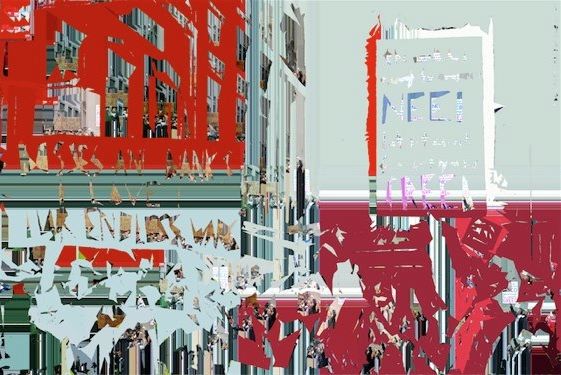 Tucker has this to say about his recent experiments. "I have been using Studio Artist for almost a decade now and every day I am surprised, I haven't even scratched the depth of possibilities. I got very interested in Studio Artist's generative and random qualities when I became paralyzed. In this case, I became interested in the effect of custom presets applied to vast folders of images spidered off the web. The resulting composites were dreamy and freakish and called out for action.
If you've ever "tried" to make something random – but controlled, you'll know what I mean – it's hard work! "
Tucker talks more about this and other projects on his blog.
For more information on Gallery Show check out these Studio Artist tips.